Glen Meuller Annual Figure-8 Barefoot Tournament

Another Figure 8 Tournament complete and one step closer in determining the 2010 Figure 8 series barefoot champion.
The Glen Meuller Figure 8 Tournament was held over this past weekend on lake St. Louis and here are the results:
1st place - Marc "Porn Star" Donahue
2nd place - Greg Fatla
3rd place - Jacob Weber
4th place - JJ Link
Click Here to view the Bracket
Click Here to view the Photos

Click the Read More link for the full story!


The tournament was a great success this year. The beautiful site at the Lake St. Louis Country Club was very family friendly with a wonderful beach swim area, pool and Country Club restaraunt.
This year, 28 footers competed for a 1000 dollar first place prize! The weather was hot and humid and sunny and the water was warm and clear. The morning started a little breezy and the back corner of the course was proving to be difficult to foot through. The competition started off with the first set of footers hitting the water at about 9 am. James Weber went up against Rob Christinsen in the first run of the day that sent James to the losers bracket.
With the breezy conditions, the course was eating up footer after footer as no one could make more than 3/4 of an eight. As the day progressed, the footers became more dialed in and a few elite were able to pump out just over one Figure 8. Timmy Hydro and Chad Mietz had one of the longest runs of the day at just under two Figure 8's.(see photo below)



The competition went on without a hitch and not a single re-run was necessary as the footers skied very well throughout the tournament. Due to the choppy water conditions, there was no show-boating or hot-dogging from any footers. Mike Miller did his best to please the crowd as he threw up his patented wave at the beginning of each of his runs.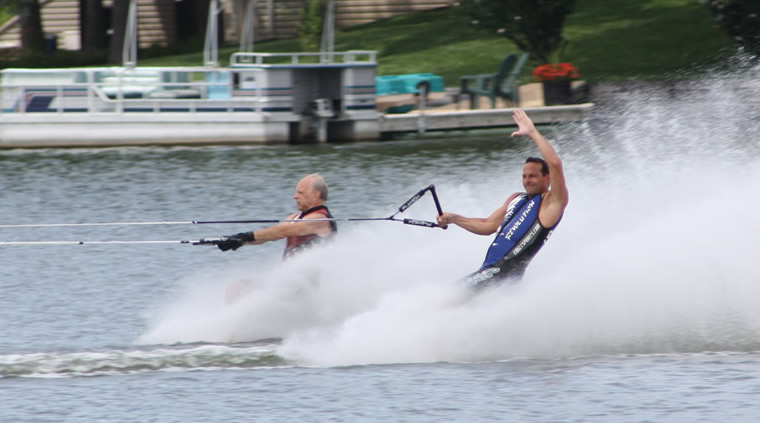 After all the smoke cleared, the tournament was down to a few footers. Jacob Weber footed his way to 3rd place after sending JJ Link to the beach with a 4th place finish. Marc Donahue's only loss came against Greg Fatla that sent Marc to the losers bracket. But it wasn't for long. After defeating Jacob Weber, Marc was back over to the Winners bracket for a one on one showdown and an attempt at redemption against Fatla. Greg skied strong all day long without a single loss. Marc needed two wins against Fatla in order to claim the first place prize. After Marc took Greg down in the first run, the two went at it again with little to no break in between the runs. This may have been Greg's achilles heel as he succumbed to another loss to Marc and sent Donahue to the top of the podium as the Champ.
Here are the points:
Marc Donahue 55
Greg Fatla 40
Jacob Weber 30
JJ Link 25
Adam 25
Rob Christinsen 20
Mike Miller 15
Chad Mietz 15
Chris McWatters 10
Mike Netzer 10
El Bocko 10
Timmy Hydro 10
Anthony Gramolino 10
Steve Marvin 5
Fred Deiser 5
Mitch Buehrle 5
Jim Devens 5
Craig Campbell 5
Doug Smith 0
James Weber 0
Dan Cardinal 0
Doug Smith Jr. 0
Ben Deiser 0
Chuck Stein 0
Jeff Buehrle 0
Chris Krick 0
Ted Woods 0
Jim Mondl 0

Thanks go out to all the participants and Lake St. Louis Community Association for allowing us to use their beautiful site for the tournament. A special thanks to Elizabeth Winters for setting up the bracket and thanks toTim Knoezer, Mike Schneider, Anthony Gramolino, Doug Winter, and Ben Urnst for organizing this great event. See you all again next year!

Sponsors included the following:
Reef Safe biodegradeable Sun Care
Barefoot International
World Barefoot Center